Birmingham City University Architecture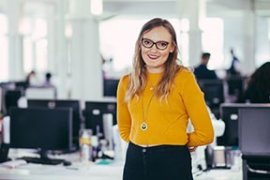 Placements
Our connections with over 100 architecture practices give you lots of opportunities for experience and placements. All second year students undergo a two week placement as part of their studies to gain experience of industry.
Companies we work with include 3D Reid, ADP, BDP, D5 Architects, Daniel Hurd Associates, Glazzards, Hawkins Brown, Vivid Architects and many more.
Our placements give you the chance to develop your skills and make vital connections which could lead to future employment.
Case study: Charlotte Taylor – BA Architecture
A love of design, as well as being impressed with the facilities and work displayed at our Open Days, inspired Charlotte Taylor to study Architecture at Birmingham City University. Strengthening her skills with a placement at Glenn Howells Architects, she now plans to stay the course and graduate as a fully-qualified architect.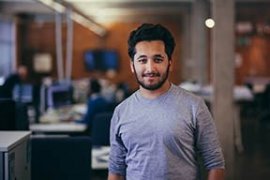 "I have been interested in architecture from an early age – I remember when I was 11, when I moved house I drew a to-scale floor plan of my bedroom and designed where I wanted everything to go. Alongside that, I've always loved art and design just as much as maths and physics, so a combination of all three made Architecture the perfect choice.
"I chose Birmingham City University as when I first visited, I felt totally at home and very comfortable. None of the other universities I visited had an atmosphere like the University has, and you could tell the Birmingham School of Architecture and Design was extremely proud of its students.
"As part of our Praxis module, we had to take part in a two-week placement, which I think is a great idea, as not many other universities offer this. I worked at Glenn Howells Architects, designing a reception space for a student accommodation building in Selly Oak. I think going on a placement allows you to get a taste of what it's like to work in practice, as well as helping you determine what sort of practice you want to go into.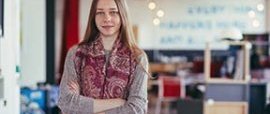 "For the future, I plan on carrying out the full seven-year course. I am really enjoying my time here and hope to progress onto my Master's for my Part II."
Case study: Abdul Azeem – BA Architecture
With a love of art, design and technology, studying BA Architecture was an easy decision for Abdul Azeem. In his second year, he's enhanced his skills further by undertaking a work placement with Birmingham-based D5 Architects, getting a first-hand glimpse into how an architecture practice works.
"I chose Architecture because of my passion for art and design, as well as a love of technology in buildings. I chose Birmingham City University because of the wide range of services available, such as the workshops and IT spaces. I am local to Birmingham, and I'd definitely recommend students from around the world to come study here, as it's very educational and welcoming.
"I had the opportunity to undertake a work placement, thanks to the help of my tutors. Working at D5 Architects, the placement was amazing – seeing how my colleagues would interact in a professional environment was incredible. While there, I helped my colleagues with projects such as photo shopping certain renders, researching materials or information, and model making. I definitely feel like I have gained a lot from being in the placement, such as presentation quality, time management and confidence.
"My plans for the future are to move on to complete the full RIBA course."
Case study: Tatiana Pachina – BA Architecture
Originally from Russia, Tatiana Pachina wanted to study in the UK due to the recognition a UK-based education receives. Electing to study at Birmingham City University due to its renowned reputation, BA (Hons) Architecture student Tatiana has recently completed a placement with Birmingham-based architectural practice Gensler, gaining vital first-hand experience.